At this point we have to get a list of M3U format for broadcasters who wish to watch it on our TV.
You can find a constantly updated list of issuers of the Italian Terrestrial Digtale in that other post …
I assume, then, that you have proceeded to download this list in the article that I have proposed or at least that you are in possession.
Then we launch the app from remote SMART TV and we'll see this screen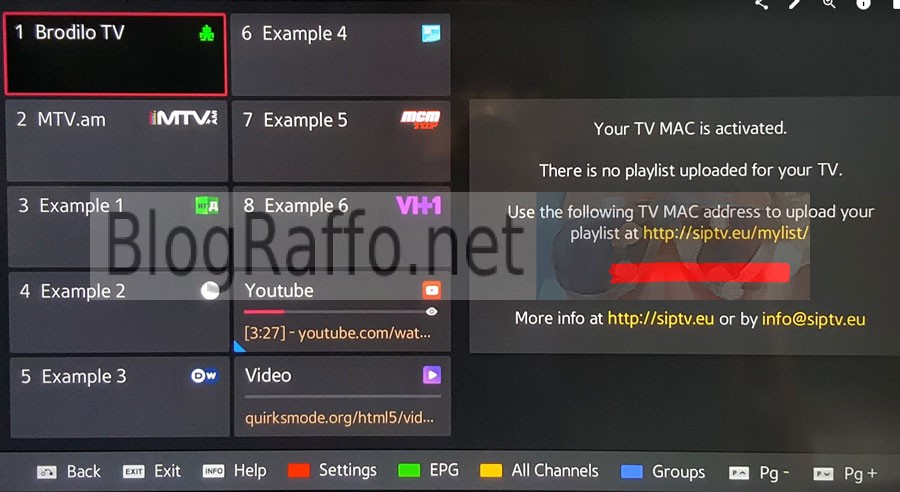 I deleted the 'MAC ADDRESS of my TV (below the red line) but it is the number you need to write down for the next steps (of course you have to write down the MAC address of YOUR TV)
To load our list on the TV APP we will use any PC or Mac and connect to this http://siptv.eu/mylist/ address.
Then we follow these 3 simple steps to load our list M3U format: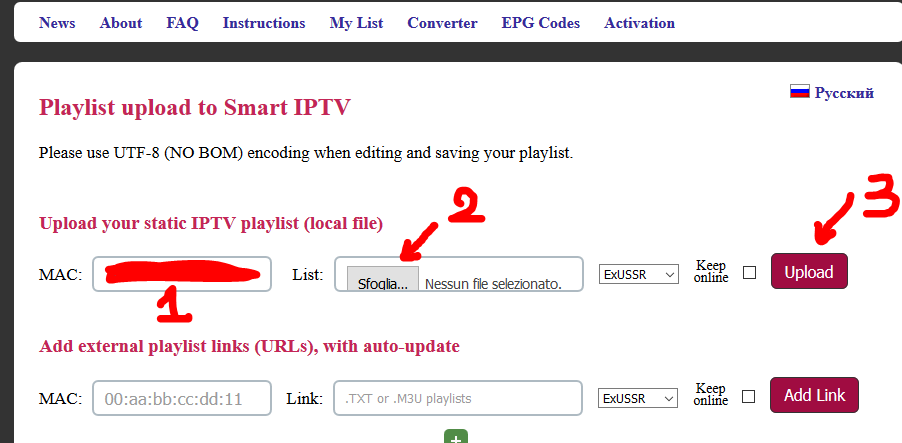 We copy our MAC ADDRESS box 1

We click the Browse button and select our M3U files (from our PC or MAC)
Click on the button Upload
Now, if we go back on our TV and we do down the App SMART IPTV will find it full of all channels included in our list.
If you happen to find suddenly the empty list, perhaps after some use or other for some time, there may be a DNS problem … take a look at this article:
Why and how to change the DNS servers of Smart TV Samsung – Samsung Smart TV Change of the name server
For questions or suggestions … we write it in the comments !!!
NB Add this clarification for all (and we are really a lot !!!):
NO COMMENT REGARDING OFFERS OR CLAIMS OF LINES WILL BE ILLEGAL IPTV 'APPROVED.
LINES TO SEE OR SKY ON MEDIASET IPTV LEGALLY NOT EXIST !!!
YOU CAN BUY THE PACKAGES SKY, MEDIASET PREMIUM, OR WHAT YOU WANT FROM THE SITES OF THE RESPECTIVE PROVIDERS
27,798 total views, 6 views today